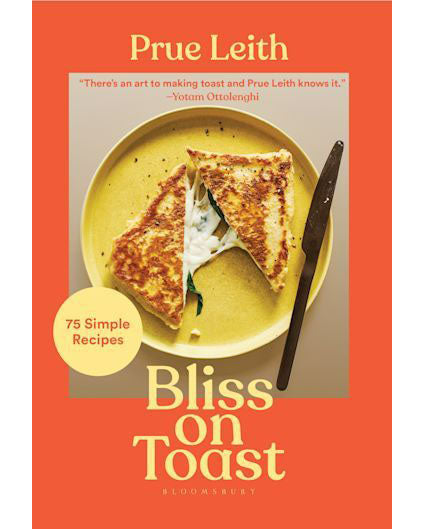 There is nothing more comforting and delicious than toast. And when you top it with a few cleverly paired ingredients, it becomes a full meal-not to mention pure bliss. In 
Bliss on Toast
,
Great British Baking Show
judge Prue Leith
 toasts sourdoughs, focaccias, baguettes, flatbreads and more, then pairs them with everything from seasonal vegetables to meat and fish. The collection spans healthy, hearty, salty, and sometimes sweet. Ideal for a busy home cook who loves a full and balanced plate, the recipes are incredibly versatile and perfect for any time of the day: 
tomatoes, shallots, and oregano on black olive toast; grilled chicken tikka with yogurt on naan; smoked salmon, wasabi, and avocado on multigrain bread; and bananas and ice cream with brandy syrup on panettone. 
Bliss on Toast
 is as much a toolkit for quick fridge-raids as it is inspiration for seasonal delights. With 82 years' experience of good eating and 60 years of cooking, writing about and judging food, there is no one who better knows what makes a meal bliss than Prue Leith.
hardcover

192 pages

8" x 6"

ISBN: 9781639730711