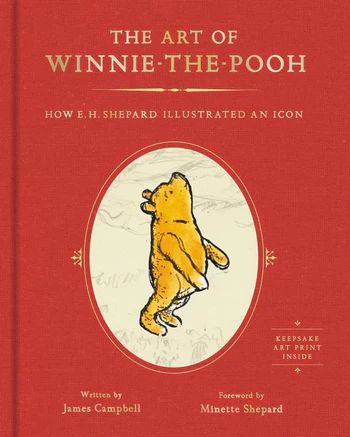 The enchanting story of how illustrator, E.H. Shepard, created the classic illustrations for some of the most beloved characters in English children's literature—Winnie-the-Pooh and his friends from the Hundred Acre Wood, Piglet, Eeyore, Tigger, Kanga, Roo, Christopher Robin, and more—and the remarkable partnership between the writer, A.A. Milne, and the illustrator that brought them to life, told for the first time in this beautiful volume illustrated with more than 125 full-color images from the Pooh series, never-before-seen sketches, artwork, family photographs, and memorabilia.
Winnie-the-Pooh and his friends have enthralled generations of children and have become some of the world's most beloved characters.
But before their adventures were captured in many millions of books published in nearly fifty languages, they started life in the 1920s as the product of a unique collaboration between author A. A. Milne and illustrator E. H. Shepard. They wove images and text together in a way that was utterly original for the time. It was a process that Shepard relished; he continued to create artwork for new editions until his death in 1976 at the age of ninety-six.
This lovingly designed, full-color volume, which includes a foreword from Shepard's granddaughter, tells the story behind this remarkable partnership, and traces the evolution of Shepard's work, from his first tentative sketches to the illustrations we know and love, including the characters' later incarnations by the artists at Walt Disney Studios.
hardcover book 
160 pages 
ISBN: 9780062795557